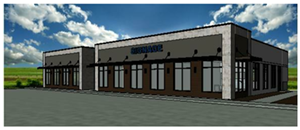 Spurred by consistent growth and community support, Peoples Bank will open a new 5,000 square-foot facility in March 2021 to house its operations and finance departments.
Construction begins this summer on a $1 million facility located just east of the existing Indianola branch at 400 E. Iowa Ave. In total, 70 percent of the work will be completed by local contractors, which is something Peoples Bank President Kevin Halterman said is a point of pride.
"This truly is a community project," he said. "Now, more than ever, we need to support our local contractors, and keep as much of the work locally as possible."
The current branch opened in 2004 and houses 35 employees.
"There was a time when I couldn't imagine that we'd grow enough to move out of the square downtown," Halterman said. "Now we have six branches, and are opening another building. It's a testament to our customers and communities who have trusted us with their finances since we opened in 1998."
The new facility will have office space, a training area, meeting rooms, and room for a future call center. A small group of employees will move from the existing branch to the operations center. The building is designed for growth, Halterman said.
Peoples Bank is a locally-owned and independent community bank. Founded in 1998, Peoples Bank has more than $320 million in assets with six locations in south central Iowa. To learn more about Peoples Bank, visit the website at www.mybankpsb.com. Follow us on Facebook at www.facebook.com/mybankpsb.